How can I make the most out of an online German course?
Online language learning is becoming more and more popular! This distinct trend is supported not only by younger learners, but especially by adults who used to be kept from continuous learning by constraints of time and space and who have discovered the benefits of language learning via the internet. Also, the widespread use chat programs like Skype means that no technological hurdles remain.
But as to everything else, here are two sides to online learning: as great as the enthusiasm is for 1-on-1 online tuition, frustration levels rise quickly in online group classes for many participants. This is due to the little interaction among students and between students and teachers in the absence of face-to-face contact. Motivation and attention span quickly hit rock bottom.
For this reason, the Sprachinstitut TREFFPUNKT-ONLINE offers only 1-on-1 online tuition (focus on German and English).
After more than 4,000 hours of online teaching experience, the TREFFPUNKT-ONLINE teachers have taken a critical look at the pros and cons of online teaching and are now sharing their findings.
One thing we can already tell you is that online learning bears the potential for great success!
Techology and media

A good internet connection is a basic requirement! Without a fast and stable internet connection, online learning is impossible. Both trainer and student must be able to understand each other clearly. A webcam must be available when needed and also the exchange of data must work well alongside teaching.
Teachers and students should both use a headset to avoid distracting noise and reverberation
During online lessons you will primarily work with texts, videos and songs. Scanned teaching material will be also provided by the teacher.
Skype is ideal for 1-on-1 tuition. Other platforms, such as spreed.com, can also be used, but they will often make the lessons much more expensive and, due to an oversupply of functions they may well slow down the computer or even draw attention away from the lesson.

 
 

Student characteristics

Being able to study independently: since there is no ongoing comparison to other learners and no placement in a group, learners need to be very conscious of this aspect.
High degree of self-motivation: learning online takes a lot of self-motivation on the part of the learner, since the teacher is not able to "take the learner by the hand" as is the case in classroom teaching. Since online learning lessons occur less frequently than classroom sessions, as a rule, it is much more necessary for the instructor to lead and correct the learners.
Technical literacy: the learner should be acquainted with the technical possibilities at least as far as is necessary to allow him to send files, play back audio and video files, and use Skype or other learning platforms. Ideally, the learner should enjoy working with computers.
Being open to e-learning: online learning will be a totally new experience for many – this means that a certain degree of openness to experimentation is necessary. If something doesn't work immediately or fully satisfactorily, this should be communicated openly and precisely in order to allow creative collaboration in solving the problem. Both partners should also be aware that their counterpart will be sitting in a different country and probably at a different time of day.
Clearly defined study goals: the clearer the goal and the tasks to be done are defined, the better the learner's progress and success can be evaluated. If this aspect is very important to you, you should discuss it at the outset with your instructor and revisit your agreement after every four to five sessions. For others, those for example who may want to improve their telephoning, discussion or small talk skills, this may be less important.
Other characteristics learners may profit from in online learning:

being communicative and interested, asking questions.
being willing to learn continuously while being responsible, diligent, good at communication and full of ideas
organisational skills and good time management as well as self-discipline for homework, preparation as well as being able to commit and keep to regular meeting times and dates.

 
 

Teacher characteristics

For professional lessons, it helps a lot if the teacher has a great overall experience in teaching German as a foreign language. This expertise will give him the flexibility to select the best materials and methods for the learner based on his expertise. Also, the teacher should regularly develop his professional experience in face-to-face classrooms and online lessons.

The teacher needs even greater empathy than in a "real" classroom situation and must therefore possess the ability to identify and understand his students' personal needs, abilities, goals, and personality traits and implement best practice in the specific teaching situation.
As the lessons via Skype are very intensive and require a high degree of concentration from both sides, the teacher has to be able to motivate the student while at the same time being especially sensitive to his limits.
Other important requirements of the teacher for online learning:

Experience in working flexibly with standard teaching materials and specifically developed or customized sources
High level of teaching skills
Intercultural competence and interest
Imaginative and communicative recognition of the students' wishes to respond to the needs and identify the learning objectives.

 
 

Instructional design and teaching method

Since online learning takes place in a sort of "phone call" situation, the lessons are generally communicative in character. At the same time, the internet offers the potential of a good immersion into the target language by involving images, movies, text and interaction. In general, here, as in every other teaching situation, a flexible combination of methods should be applied which addresses the needs of the learner and keeps the motivation high. Other aspects of good instructional design are:

In assessing individual language skills the "Common European Framework of Reference for Languages (CEFR)" should be used.
By using a student's self-assessment, the placement test and a first interview, the teacher can quickly find out what language skills should be specifically trained.
During 1-on-1 individual lessons we have had good experiences in terms of efficiency if the student works through a topic in the form of homework first and then discusses questions, and performs practical exercises during the online session with the teacher, in which all questions can be answered.
The teaching method also depends on whether the lessons follow a textbook, or are conducted using freely chosen material.
The teaching material must motivate the students by themselves, and this needs to be monitored by the teacher from time to time during the lessons. This is important, because the teacher has no "direct" control.
"Last but not least," it is important that, after a planned lesson has been rescheduled, the lesson is held as soon as possible to avoid a drop-off in learning progress

 
 

Language skills characteristics

As previously mentioned, you can work on your communicative skills online very well. However, as a general rule, all four language skills, namely listening, speaking, reading, and writing, can be trained in online lessons. For the best learning outcome, a mix of online 1-on-1 training classes and classroom group lessons PLUS individual tutoring result in the highest motivation. Clearly, it is also possible to practice working with texts, mastering speech elements, and gaining methodical expertise. Some insights gained by our team of teachers in online teaching follow:

The usual duration of an instruction sequence is 90 minutes, bearing in mind that:

Beginners should focus on speaking / listening, with 60 to 90 minutes per online lesson the perfect length. To ensure progress, however, the frequency of lessons should be higher than once a week.
For advanced learners, where the focus is on new grammar or work-specific issues, a period of 45 minutes can be perfect.

If the language competence area writing is being trained in online teaching, the learner should write the texts in home study. The shared online time can then be used primarily for the correction of the results, so that not too much time is lost.
Online classes can bring a lot of variety and can also be designed as a game, because ultimately everything can be trained. They can stimulate timid learners to talk.
Intercultural communication is a particularly interesting aspect of language learning, and attention should also be paid to this in online learning. If, for example, a German native speaker teaches a Saudi-Arabian learner, intercultural aspects will be communicated almost incidentally; the teacher should draw attention to the differences that result from the content of the lesson.
Be sure to use a fast, stable internet connection the fun, because if the connection is good, then the same as in normal language skills instruction can too.

 
 

Conclusions

What are the pros and cons of online learning via Skype and Google Hangout? Here is our opinion

What speaks for online lessons via Skype …

As already mentioned, the overall flexibility of the internet has many positive aspects: availability independent of location and time constraints, low resource usage, no travel time, lower costs, often easier to organise than a language course at a school. In addition, you can edit online resources easily, copy, reproduce, develop and re-use them.

In addition, there are clear advantages for the learner in this kind of instruction :

Continuous interaction with (personal) teachers
Ability to respond to individual needs (from beginners' lessons through conversation practice to exam preparation)
Easier to organise than a two-week language course, also possible to do while working
For many, online education is simply "something different" and a supplement to traditional language courses.
For many, it is certainly a very exciting educational alternative.
Overall, online education will become more important in future, also because the development of easy-to-use and affordable learning platforms is still in full swing.

… and what might be said against online lessons?

According to many of our online teachers, how much the disadvantages of online instruction affect the lessons is down to the type of learner. If you can only learn effectively as part of a group in a classroom setting, because group dynamics are essential for your motivation, online lessons won't be the best way for you. Furthermore, we found that:

instruction sequences are too short for an intensive workout, but extending the time would be too exhausting (for both sides). In this case, the higher concentration intensity has a negative effect, and there is no exchange with other learners
those who expect online lessons to be like "traditional" teaching may well have difficulties with this type of instruction; a certain affinity for technology is a must
the lack of direct control or supervision by the teachers has a negative effect
for teachers who work a lot with physical interaction, who frequently use the whiteboard and/or employ miming or acting in their instruction, it is difficult online to use these skills
Many people do courses just because they want to meet people. This social component is completely missing in online teaching courses (… except for the teachers, of course).
complete dependence on the technical medium (wifi trouble. ..) If the online classes are designed as group classes, more significant disadvantages must unfortunately be taken into account:
temporally extremely strict specifications with no flexibility
significantly reduced intensity and efficiency, as much time is lost waiting for all students to join the group.

All these factors should be seriously considered when thinking about doing an online training course.

 The online Skype lessons are a very flexible way of teaching German. They can meet the needs of students perfectly, and there is an infinite variety of materials available through the internet!

In the beginning, most teachers were extremely sceptical about learning via Skype. However, many noted even after the first lesson that it can be a terrific method. It has now 100% convinced many of us; this is proven by the fact that participants extend their online hours booking and are eager to continue their courses.

We think Skype is fun. It has been so privately for years and now we are also using it professionally to teach languages !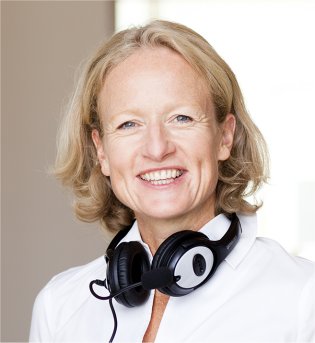 Contact me!
Alexandra von Rohr