FIRST STEPS
Skype and other chat programs are easy to use. Should you need any help, just give us a call. As a privately run language school, we ensure you have a personal contact on hand to offer support from the outset. Besides a PC, tablet or smartphone, all you need is a stable internet connection. Using a webcam is optional, but is recommended read more / mehr lesen
Alexandra explains the booking and learning procedure 
Technical steps
Install Skype as described on www.skype.com
Choose a Skype name which you can be reached under. We recommend your first and last name
Optional – get a good headset – the best connection type depends on your device: PC, notebook, smartphone
Test whether everything works by making a test call as described on www.skype.com
If you want to use Skype within a company network, you may need to inform the network administrator or ask them to set up the installation.
Booking steps
Once the technology is working, book your German course online using our secure German course registration form. Most participants begin by booking the starter package of 2 * 45 minutes for EUR 50.00. This is an entry-level price to enable you to get to know your teacher live in a teaching session. read more / mehr lesen If you enjoyed the lesson, book packages of 10, 20, 30+ lessons of 45 or 60 minutes. You will continue to learn with the teacher you had for your trial session. [/ read] To make a booking, fill out our enrolment form. There you will find the following points to choose from:
Course details 
Starter package, i.e. 2*45 minutes for EUR 50,00. If you prefer, you can begin without the starter package, immediately booking batches of 10, 20, 30+ lessons. You can also choose whether you would like to lesson to be 45 or 60 minutes.
A1.1 = no German, A1.2 = little German, A2 = basic German, B1 = lower intermediate, B2 = higher intermediate, C1 = proficient, C2 = excellent. If you are not sure, choose the level that seems most appropriate and we will verify this via a placement test or after the first lesson.
Currency in EUR
Course date
When entering your course time, please consider time differences.
Register 
yourself

your partner 

your child 

an employee 
Personal data 
Name and address for the invoice 

Skype name 

Email and telephone number for quick contact  
Method of payment 
Bank transfer
PayPal (for the first lesson only)
Credit card, only Mastercard or Visa
Instant bank transfer
In the box at the end of the form you can make comments and tell us about any specific requests you have in terms of content. The more we know about your goals, the easier it will be for us to choose the right trainer for you.
After enrolment
After receiving your online enrolment, within 36 hours you will receive…
a course confirmation by email. This includes the invoice for the course fees if you selected a bank transfer. If you selected PayPal or credit card, you will immediately receive a confirmation of payment and registration.
On receipt of payment for the course fees, we will send you an email containing…
the contact details of your online trainer, i.e. Skype name and email address, and a placement test to determine your German level (if you are not a beginner). The test is optional. When you have completed it, please send it to the school or directly to your teacher at least 24 hours before your preferred course start.
After the starter package
If you wish to continue after the starter package or any other booking, book packages of 10/20/30+ lessons of 45 or 60 minutes each. The more hours you book in a block, the lower the price.
You can again book via the registration form, as you did for the trial session
or email the school to say how many hours you would like to book. In this case you will receive an invoice by email. Again payment can be made by bank transfer, credit card or PayPal.
Should you have any questions, we would be happy to answer them on the phone +49 (0) 951 204404 or by email to info@Learn-German-via-Skype.com. We would also be glad to talk you through the registration process by phone.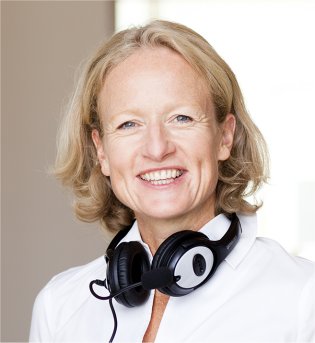 Contact me!
With best wishes from Bamberg/Bavaria Alexandra von Rohr