OVERVIEW: That's how it works
| advantages | courses | target group |
Classes are conducted via zoom, Teams, Skype or other chat programs on request. Your native speaking German teacher will contact you for your preferred first appointment, which you will have stated during your registration. All future appointments can be arranged directly with your German teacher after each session. During this session you will also have a chance to discuss the course program with him/her personally.
More and more terms have been buzzing around the net. Let us briefly clarify what types of teaching there are, what they are called and what we offer.
A) Distance education = Distance learning. You learn live with your teacher on an online platform as if you were in a classroom. This means you'll receive personal and prompt feedback. This is what we offer.
B) Online eLearning = Web-based educational processes. You study on your own, working through standard exercises and receiving automated feedback.
C) Face-to-face training  = Education in face-to-face events, e.g. at a school or in a company or in the home of the teacher. We offer in a company and at the home of the teacher.  
About point A) Individual distance education, another common expression is online training, is a term we also use. The big difference between this and eLearning (point B) is that our lessons are not based on standard web-based exercises on one platform. Instead, our lessons are conducted by a live private teacher, as though you were in a classroom.
No matter which aspects of German you want to learn or improve, a one-to-one training with your private tutor online offers the ideal platform. On an online platform you can chat, watch videos and record sessions. You have all the technical tools you need to practice speaking, listening or writing.
Computer-assisted language programs can be helpful, both to prepare for yourself for the lesson and to build on your new knowledge. Please let us know if you are already learning German with a learning CD or tutorial. If you wish, we can integrate this learning material into your individual sessions.
Courses
You can choose from and mix 8 programs all with a different focus:
Learning in a group of 4 to 6 students 
Learning by modules
The course programs are tailormade to your requirements. Talk to us and we will explain the programs to you in detail. At the end of the course, you will receive a certificate by email confirming your participation, stating the number of lessons and the course level according to the official Common European Framework of Reference for Languages (CEFR).
You can book with us as a company or as a private individual. We will issue the corresponding invoice.
Target group
 These courses are for all who …
are looking for an individual German program
prefer to work with native German speakers
need prompt individual feedback 
are looking for an authentic communication situation, e.g. on the phone or during video conferences
prefer one-to-one training as they cannot attend classes at school regularly due to scheduling difficulties 
prefer one-to-one training as they wish tailored made sessions
are happy with group courses as long as they are small, focused and demanding
want to lose their fear of speaking on the phone or presenting
want to perfect their oral expression and pronunciation
want to understand better and react more quickly
need more security in writing emails, reports and minutes
want to prepare for an intensive German course or a (work) stay abroad 
This makes studying German online different from any kind of web-based training and self-study programs. 
Advantages
Obvious advantages of online learning
intensive learning with high concentration, especially with a headset
voice recording of the lesson to repeat the new material
speaking and listening are equally intensively trained
an authentic learning situation online
no travel to the course location, i.e. savings of time and money
strong flexibility, with a course time between 7:30 a.m. and 10:00 p.m.
a flexible schedule, including breaks if required 
continuity of learning is made easier, possible from almost anywhere, any time

The interaction with a teacher, rather than an avatar, is more motivating and effective in the long run.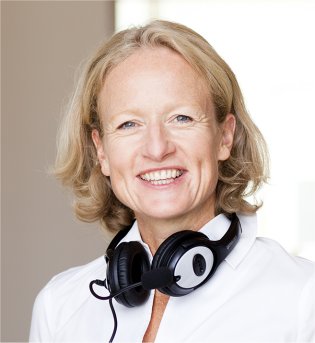 Contact me!
With best wishes from Bamberg/Bavaria Alexandra von Rohr